For fast and effective commercial pest control, Jim's Pest Control Warwick are the experts you can trust. We understand how important it is for thorough and safe pest control in workplaces, schools, and commercial properties, and so you can be assured that we won't rest until your pest problem has been eliminated.
Call us on 131546 or get in touch for a free quote
To prevent any pests which may pose a health risk or disrupt your business operations, it's important to schedule regular pest and termite inspections. Our local technician will conduct a thorough inspection of your property, provide you with a detailed report advising you of any vulnerable areas which are at risk of pest or termite attack, and then discuss with you the most effective treatment methods.
Being highly experienced, fully trained, and insured, you can trust your local Jim's Pest Control technician to deal with any pest situation in your commercial property. Our fast, reliable service and proven results, means that we will focus on keeping pests away while you can focus on your business.
Commercial pest control Warwick businesses can rely on
If the worst should happen and you find yourself with a pest problem in your commercial property, Jim's is here to help. We understand the effect a temporary shutdown or interruption, so we'll have a technician on site quickly to help.
Prevention is always better than an emergency pest situation, which is why we offer routine prevention programs. After each visit we'll provide you with a detailed report, and update the pest control register that we keep for every commercial client. This makes it easy to keep track of any pest activity and any treatment methods undertaken, and it allows us to make informed pest control decisions in the future.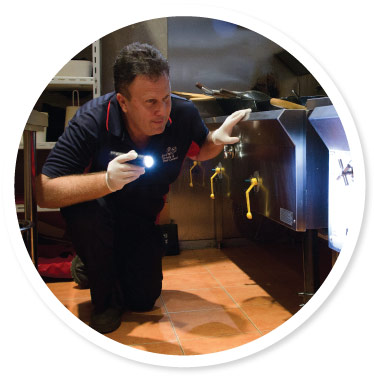 At Jim's Pest and Termite Control Warwick, we offer a range of commercial pest control services, which include:
Offices
Offices provide shelter, food, and water for pests such as cockroaches, spiders, and ants, which make them an ideal dwelling space for these creepy crawlies. It's particularly important to ensure any office environment is pest-free, especially one that is a shared space between employees and customers.
At Jim's, we offer a range of preventative and eradication solutions for any unwanted visitors in your office space. We'll conduct a thorough and regular pest inspections to ensure there are no more nasty surprises, and if pest control treatment is required, we'll work our way quickly and efficiently through your workplace at a time where there is minimal disruption for staff and customers.
Workshops and Warehouses
Both rodents and birds love to inhabit commercial workshops and warehouses. Between the large open areas for easy access and the multiple roosting spaces or hiding places, these properties are a haven for rats, mice and pigeons.
All these pests carry diseases which pose a serious health risk to both staff and customers, and they can also cause a significant amount of damage to your property. Rats and mice damage building structures, equipment and electrical goods by chewing through insulation or wiring, while birds attack insulation and cause mess and contamination through their feathers, droppings and debris. Not only could you be left with considerable repair and replacement costs, but any downtime required could impact productivity.
To keep your workshop or warehouse pest-free, contact your local Jim's technician who will carry out a thorough inspection and advise you on the pest prevention and/or treatment methods.
Cafes and restaurants
As every café and restaurant owner knows, vigilant pest control is a necessity. With an endless supply of food on offer, restaurants and cafes are a haven for pests such as rats, mice, and cockroaches. In these environments, it's particularly important to ensure you get a regular pest service to be compliant with your obligations and maintain clean, safe, and healthy surroundings.
If the worst should happen and you find yourself with a pest emergency on your hands, Jim's can also help by quickly, safely, and effectively removing any pests from your property.
The chemicals we use are eco-friendly, are safe for your staff and customers, and we'll ensure that our treatment processes cause the least amount of disruption to your business.
Schools
Schools are responsible for providing a safe, pest-free learning environment for children, but given the large number of people and resources on site each day, schools are an easy target for all types of pests. Rats, mice, ants, cockroaches, and spiders all like to inhabit school buildings, where they're provided with shelter, water, and a continual supply of food.
For this reason, we recommend that schools undertake regular commercial pest control inspections and ensure the right preventative strategies are in place. But should you find a pest emergency at your school, Jim's will be able to take care of it quickly and effectively, with minimal disruption.
A commercial pest control service means one less thing to worry about
Your focus should be on managing and running your business. Which is why scheduling a regular commercial pest control service will give you confidence that you won't encounter any trouble with pests, and can focus on what you need to.