Jim's provide thorough pest inspections Warwick residents can trust, for both pre-purchase inspections and to detect any pest infestations in your existing property.
Your local technician has the care and expertise to provide you with fast, honest service and advice and a reliable result.
If you need a pest inspection or pre-purchase termite inspection, call us on 131546 or get in touch for a free quote
What to expect from your Warwick pest inspection
Your local Jim's technician is highly experienced and has an excellent understanding of local pests and their behaviours. Once we have carried out a thorough inspection of your property, we'll provide you with a detailed report which will give you the information you need to make an informed decision about your purchase or your pest control treatment.
During our inspection, we'll look for any vulnerable areas of your property which are at risk to a pest or termite invasion, and identify any signs of termite or pest activity. Once we've completed our inspection, we'll provide you with our report, and discuss any remedial or preventative treatment which needs to be undertaken.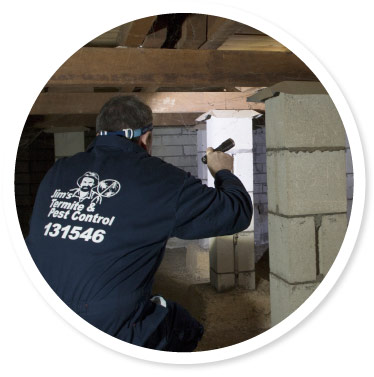 Pre-purchase inspections
Buying a property is arguably one of your biggest investments, so you want to ensure your valuable asset is protected from intruders.
A professional pre-purchase timber pest inspection is an essential step in your purchase, as it will allow you to make an informed decision.
Our Warwick pest inspections include a comprehensive inspection report, which identifies issues including:
Any previous or current termite activity.
Any timber pest activity which could indicate the presence of termites.
Vulnerable areas of the property which could be at risk of pest or termite attack.
Issues which may require remedial work.
Recommendations for any preventative treatments in high-risk areas.
Termite inspections
In addition to pre-purchase inspections, Jim's can provide your annual termite inspection to make sure there are no colonies silently forming on your property.
Termites can cause five or six figure damage to a structure in a matter of months, so it's essential to get a qualified pest inspector to check your home or business regularly.
A small investment now could save you nasty surprises in the future
When it comes to ensuring the long-term protection of your property, a thorough pest inspection will be money well spent. Doing this now will save you significant money and stress in the future, and give you peace of mind that your property is less at risk.