For trusted termite control Warwick, look no further than Jim's. Whether you have a termite situation on your hands or simply want to arrange an inspection, we're here for you when you need us .
Your local technician is highly experienced, fully trained, and insured, and can handle any pest situation you have in your home or business quickly and efficiently.
Call us on 131546 for a fast response or get a free quote
Termite control Warwick locals can trust
At Jim's, we know that prevention is always better than cure. Which is why when it comes to termites, a small investment in a pest and termite inspection now could ultimately save you many thousands in the future.
If a termite colony starts devouring your property, you could be left with significant structural damage, which could potentially cost you a whole lot of money, time, and stress. With an explosion in termite numbers in recent years, don't fall victim to an infestation in your home or business.
By arranging a pest and termite inspection with Jim's Pest Control Warwick, you can significantly reduce the risk of termites invading your property. We know how to find vulnerable areas of your property that could be at risk of termite damage, and we'll advise you on the most effective preventative methods. If termite activity or damage is found during our inspection, we will put remedial treatment methods in place immediately.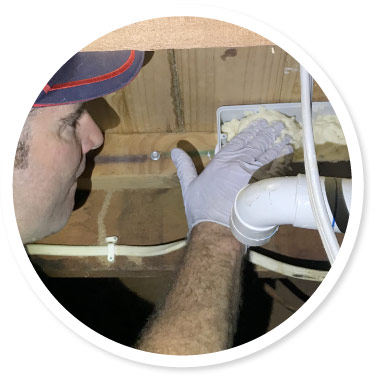 Termites can cause hundreds of thousands of dollars in damage before you know they're there. That's why it's essential to get an inspection at least once a year.
Jim's Pest Control Warwick uses the latest termite inspection equipment to make sure we don't miss any termite activity. We will then provide you with a comprehensive inspection report which will detail:
Current termite activity.
Evidence of any previous termite damage.
The conditions around your property which leave it vulnerable to termite attack.
Advice on how to minimise the risk of a termite infestation.
Options for preventative and remedial termite treatment programs.
How often you should have a termite inspection carried out.
During our inspection, if we do find evidence of termites or risk of an infestation, our local technician will discuss with you a range of remedial and preventative treatment options to suit your particular situation.
Remedial treatment programs include pesticide barriers, which contain dusts and baits specifically designed for termites. Once ingested by the termites, the pesticide effectively eliminates the entire colony. In-soil pesticide barriers, which are applied into the soil under and around the foundations of your property, work in the same manner.
For termite prevention, we can install physical termite barriers around the perimeter of your building. These are made from metal, crushed rock, or similar materials which termites can't chew through. In-soil pesticide barriers can also be used for preventative control measures.
For preventative control of termites, physical or pesticide barriers can be installed. Physical barriers are made from metal, crushed rock, or an in-plastic pesticide barrier. And as with remedial treatment, in-soil pesticide barriers can also be used for preventative control.